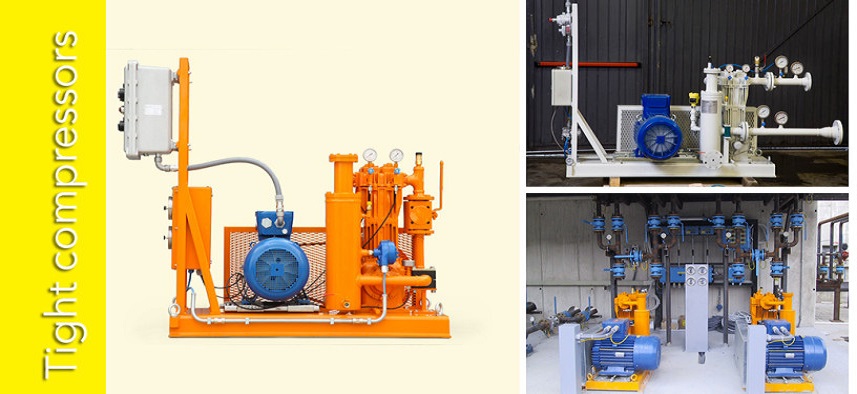 TIGHT compressors are vertical oil-free reciprocating compressors manufactured and distributed by Tecnogas and characterised by high performances and low installation and maintenance costs.
TIGHT compressors combine sturdiness and small dimensions in order to provide the best performances in the compression of technical gases, for stationary or mobile use.
TIGHT compressors can operate in any environment due to their high reliability and to the respect of the safety regulations foreseen by the ATEX, PED and Machinery Directives.
COMPRESSOR RANGE
The TIGHT range includes single-acting, dual-acting and dual-seal compressors according to the required capacities, the different pressures and the gas to be handled.
There are several different packages starting from the bare machine till the complete units provided with Eexd electric control board and the optional safety and control devices. Skid–mounted units for industrial installations and compressors coupled with hydraulic engines or trailer-mounted versions for emergency situations can also be supplied on request and customized according to the customer specifications.
MAINTENANCE
The maintenance and after-sale service offered by Tecnogas assures customers a constant technical support, while our warehouse guarantees the spare part availability for shipments all over the world in reduced delivery time.
APPLICATIONS AND USE
TIGHT compressors have several applications: LPG transfer operations between tanks, recovery of residual vapours, LPG recovery from gas cylinders or from tanks in emergency situations, booster for low pressure gases (biogas or natural gas).
Generally, compressors are used in storage depots, bottling plants and fixed industrial plants, or installed on tank trucks and emergency vehicles.
GASES WHICH CAN BE HANDLED
TIGHT compressors are suitable for the transfer of LPG, refrigerants, ammonia, dimethyl ether, vinyl chloride, natural gas, biogas and several other process gases.